Performance & Instruction:
Kay Hettich




HOMEPAGE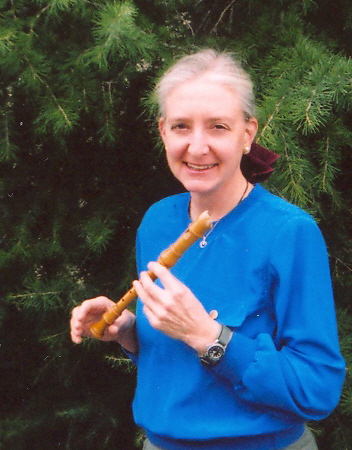 PERFORMANCE
Music for Weddings, Parties
& Special Occasions
Upcoming Events
Previous Events
BIOGRAPHY

CONTACT INFORMATION
Kay Hettich
Rates
References Available
---
---
REPERTOIRE
About the Recorder



About the piano
& digital Stage piano
---


PHOTO GALLERY
Pictures 2005 - 2008

QUESTIONNAIRE
What kind of Event are you planning?
---


LESSONS
Piano
Recorder

ENSEMBLES
Recorder Ensembles
in Redding, CA

American Recorder Society: Redding Chapter
---


MUSIC & INSTRUMENTS
Courtly Music Unlimited

Nicholas S. Lander
www.recorderhomepage.net
---
RECORDERS & EARLY MUSIC
American Recorder Society (national site)
San Francisco Early Music Society
---
Photo Gallery: 2
---
EARLIER PICTURES: Please note that the links in the Photo Galleries may not work. This web site was built with Microsoft FrontPage; SharePoint Service is no longer a supported format.
July 2007
Mid-summer recorder playing in the ARS Redding Chapter.
February 2007
"Winter Workshop" sponsored by Sacramento Recorder Society of ARS; Sacramento, CA
December 2006
California Children's Services: Christmas Party:
ARS Redding Chapter provided the music.
July 2006
Recorder Workshop, sponsored by SFEMS (San Francisco Early Music Society)
You may enlarge the pictures below:
Click on a thumbnail picture for an enlargement.
Click "Back" on your browser to return to the Photo Gallery.
---
Mid-summer recorder playing

Melony from N. Carolina, Barbara W. and Kay as trio.

ARS Sacramento Winter Workshop 2007

Recorder players at Kathy Canaan's house; Kay, in red.

California Children's Services: 2006 Christmas Party

Santa's helpers on percussion with Kay and Barbara C.

SFEMS Recorder Workshop July, 2006

Matthias and Norbert, faculty

Campus of Dominican University