---
December 1st, 2012 Christmas concert: Courthouse Museum
Kay (left) and Barbara C. (right) perform at the California State Historic Park in Old Shasta. The event was "Old-Time Holiday in the Parks."
---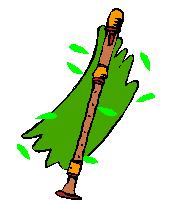 Redding Chapter, American Recorder Society
Kay Hettich, Director
Carla Bania, Assistant Director
♫♫♫ We would love to play for YOUR event or service organization! ♫♫♫
Contact Kay for music, rate information, and scheduling: (530) 241-8107
Click: Ensembles in the Redding Chapter
Click: Redding Chapter Events
---
Link: Ensemble pages for Brief History and how to join classes.
---
The Castle Musicians (Novice Ensemble)
Reveling Recorders (Advanced Novice Ensemble)
Willow Wind Consort (Intermediate and Advanced Ensemble)
---
The Castle Musicians: A progressing novice ensemble for recorder players playing from a method book and learning easy ensemble music. Skill development includes: creating an air stream, reading music by melodic contour, and developing articulation.

Students are learning C and F fingerings to play SAT (soprano, alto, and tenor) recorders. (See Ensembles #1 and #2 Web Page.)

Repertoire: Unison playing and simple part music. Teach Yourself To Play The Recorder (method book with CD) and "Best Yet" Recorder Books. Supplemental music: English Renaissance, American heritage, and Christmas music.

Meets: Group lessons every third Thursday in east Redding at 2:00 PM. The group currently has four enthusiastic, talented players!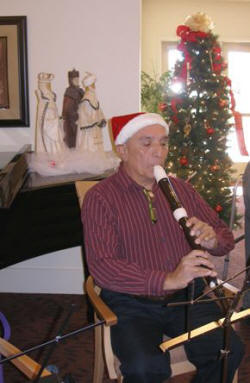 Steve Solorio, of the Castle Musicians, plays with ARS Redding members at The Vistas retirement community on Dec. 20th, 2011.
---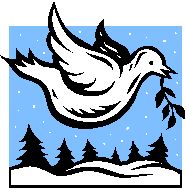 Reveling Recorders: An advanced novice ensemble. Players read music easily and play one or more recorders (soprano, alto, and/or tenor). (See Ensembles #1 and #2 Web Page.) Players are familiar with basic recorder technique and musicianship skills. Players will continue to explore how to use variable breath pressure and varied tonguing articulations to create melodic lines and shapes.
Players in this ensemble will easily hold a part on their own in part music. Players will explore stylistic interpretation.
Repertoire: Ensemble music (in part- or score-format) from various styles and periods: including the English Renaissance, Celtic tradition, American heritage, Baroque music, 20th-century arrangements, and Christmas music.

Meets: This group meets for group lessons. Temporarily the group is not meeting through lack of qualified players.
---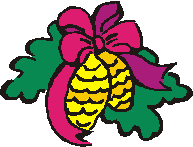 The Willow Wind Consort: An intermediate and advanced intermediate ensemble, playing and performing standard recorder literature on multiple Renaissance & Baroque instruments. Fluent sight-reading required. Baroque repertoire is inspiring, and it challenges us to work on technique. (See Ensembles #2 Web Page).
Repertoire: Performs German, French, English, Italian, Spanish, Iberian, and Irish repertoire--from Medieval through contemporary periods. A dynamic duo!
Meets: Usually meets every other Tuesday, 1:00 PM in Redding (alternating Tuesdays with the Reveling Recorders). Temporary pause in 2014; will resume.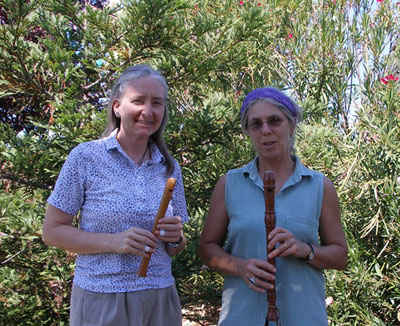 Willow Wind Consort: Kay and Barbara C.
---
Upcoming Events:
---
Earlier and Other Noteworthy Events:
♫ CA State Historic Park: Annual "Holiday in the Parks"
Saturday, December 1st, 2012; 11AM - 4:30 PM
---
♫ Christmas/Holiday Concert at The Vistas
December 20th, 2011; 2-3PM
---
♫ CA State Historic Park: Annual "Holiday in the Parks"
Saturday, December 3rd, 2011; 11AM - 4:30 PM
---
♫ ARS Redding Chapter Christmas & Holiday Candlelight Concert
December 2nd, 2011; 7 - 8:30 PM
Trinity Lutheran Church, Fellowship Hall
---
♫ RECORDER FEST 2011: sponsored by ARS Redding Chapter September 1st - 3rd, 2011; (Thu-Sat Labor Day weekend)
Trinity Lutheran Church, Fellowship Hall
The 2011 Recorder Fest was a great success. There were five playing sessions of two hours over three days. Music included a wide spectrum of Renaissance, Baroque, and traditional folk.

Besides music, there were collective, scenic lunches and dinners, including an unforgettable musical afternoon plus barbecue. The Fest was a memorable three days for all! Thank you to everyone who made the event happen!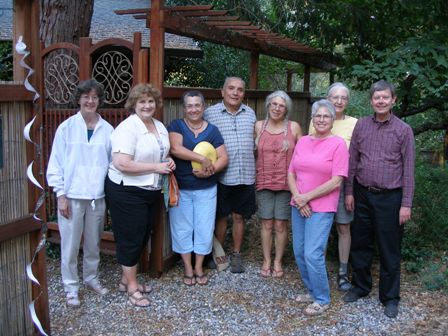 ---
♫ Baroque Workshop; June 26th-July 2nd, 2011
San Francisco Early Music Society
Kay was an American Recorder Society scholarship recipient and attended the Baroque Workshop to study with Marion Verbruggen and Frances Blaker. Kay learned several key points to share with ARS Redding. Within a month of her return to Redding, Kay was invited to perform on a regular basis at a restaurant/deli.
---
♫ SFEMS Baroque Workshop: June 2008
---
♫ SFEMS Recorder Workshop: July 2006
---
Visiting Recorder Players Welcome
Are you planning a visit to the Redding area? Call Kay or send an e-mail in advance to attend a rehearsal.
Contact the American Recorder Society.
You are invited...to visit a rehearsal if you would like to learn to play the recorder.
You can start playing the recorder with or without previous musical background.
---