Performance & Instruction:
Kay Hettich




HOMEPAGE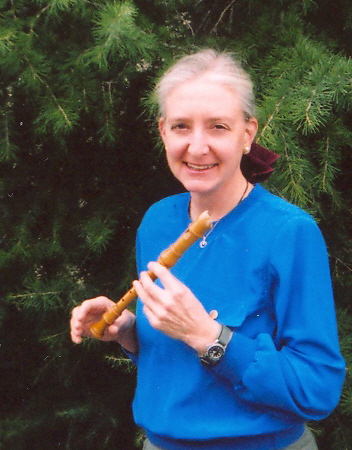 PERFORMANCE
Music for Weddings, Parties
& Special Occasions
Upcoming Events
Previous Events
BIOGRAPHY

CONTACT INFORMATION
Kay Hettich
Rates
References Available
---
---
REPERTOIRE
About the Recorder



About the piano
& digital Stage piano
---


PHOTO GALLERY
Pictures 2005 - 2008

QUESTIONNAIRE
What kind of Event are you planning?
---


LESSONS
Piano
Recorder

ENSEMBLES
Recorder Ensembles
in Redding, CA

American Recorder Society: Redding Chapter
---


MUSIC & INSTRUMENTS
Courtly Music Unlimited

Nicholas S. Lander
www.recorderhomepage.net
---
RECORDERS & EARLY MUSIC
American Recorder Society (national site)
San Francisco Early Music Society
---
Biography
---
Sing to God, sing praises to his name;
lift up a song to him who rides upon the clouds;...
Psalm 68.4
Kay Hettich has resided in Redding, California since August 2003 and has lived in California for over twenty years. She has played piano and recorder for most of her life. Among various musical activities, she was a professional ballet pianist for five years and has coached recorder ensembles since 1994.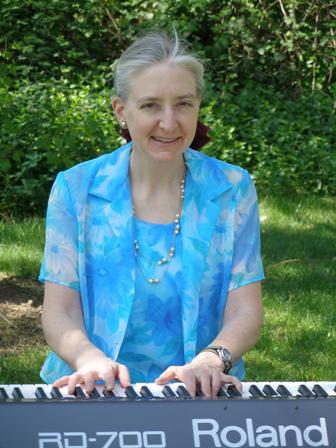 PIANO: Kay holds a conservatory diploma in piano, as well as degrees in music from Princeton University (BA) and the University of California, Berkeley (MA). While teaching music history and theory as a Graduate Student Instructor at UC Berkeley, Kay won both departmental and university teaching awards.
Kay began piano lessons at the age of four, but did not receive professional instruction until later. A major influence in her life in the 1980's was playing as a ballet accompanist for the Princeton Ballet Society. She was a principal pianist for two studios in the Princeton area and a frequent substitute for the company pianist in New Brunswick.
Following a hand injury in the late 1980's, Kay was forced to withdraw from piano for fourteen years. During the intervening years, she worked on her second instrument, recorder.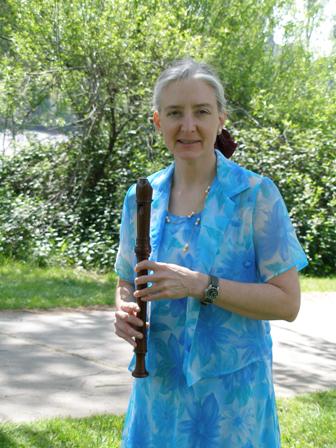 RECORDER: Kay began playing recorder in grade school. Years later, she saw that recorder was a popular instrument in Europe. In 1985, she purchased her first wooden recorder for $1 at a garage sale in Princeton, New Jersey. She soon joined and performed with Musica Alta, the early music ensemble at Princeton University.
Through playing the recorder and studying early music with Prof. Margaret Bent, Kay decided to pursue a graduate degree relating to early music. Although originally pursuing a Ph.D. degree at UC Berkeley, Kay's interest was still in performance. Two years after receiving her Master's, she decided to pursue performance on her own.
While at Berkeley, Kay founded an Early Music group called "The Berkeley Renaissance Ensemble." The group had numerous performances, including Kay's first Shakespearean production at the Berkeley Summer Theater. Kay also played and sang regularly at The Newman Center.
View from Shasta Lake in Redding, California

In the mountains of northern California, Kay continued to develop as a recorder player, while coaching a local recorder quintet. Then, during two years spent in Jackson, Wyoming, Kay founded "Gloria Early Music." Among featured performers in a fund-raiser for the Jackson Hole Symphony, Kay also had an opportunity to perform and compose music for Shakespeare's "A Midsummer Night's Dream." Kay returned to northern California in July 2003.
During the fall of 2004, Kay taught recorder classes at Shasta College through the Community Education Program. From 2008-2012, Kay taught recorder classes through the Senior Citizens' Hall in Redding.

Recent

: Kay teaches piano and recorder, performs, and directs the Redding Chapter of the American Recorder Society.

In the summers of 2006, 2008, and 2011, Kay received American Recorder Society or SFEMS scholarships to attend Recorder and Baroque Workshops. Through the Workshops, Kay has had the opportunity to work with Annette Bauer, Frances Feldon, Matthias Maute, Vicki Boeckman, Norbert Kunst, Frances Blaker, and Marion Verbruggen. Truly inspirational!
In the fall of 2011, Kay was invited to play on a regular basis at a local deli in Redding (The Best Little Sandwich Shop). Then, from February 2012 through April 2013, Kay played piano evenings at a local Japanese restaurant for three hours each evening.
Performing on piano for three hours per night at the restaurant proved to be too taxing (post-MVA). However, Kay currently plays occasionally in the Redding community and elsewhere by invitation.
---